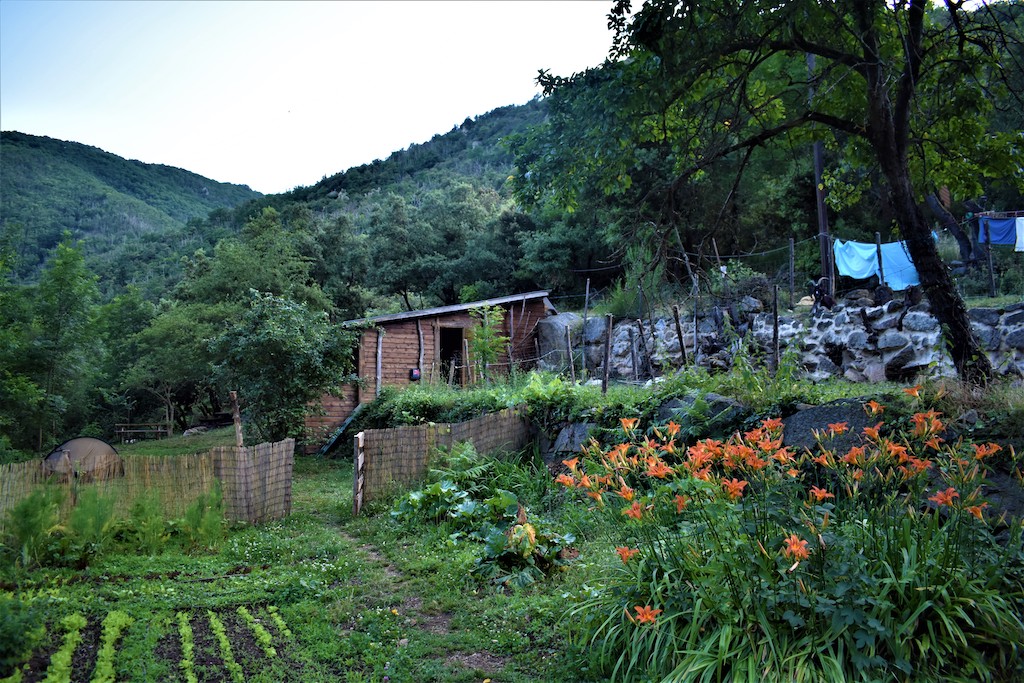 Dear hikers, we are not a normal Gîte d'etape. We are an ecological vegetarian holiday place for families.
Very international. Our common language is English (limited, French, German and a tiny bit of Spanish).
We opened our doors to hikers of the GR10/11 and HRP after our neighbours closed their Gîte d'étape.
To help the hikers cover the long distance between Arles sur Tech and Las Illas. We do this with pleasure.
But we only offer a wooden Dortoir and a camping field, our facilities for hikers are simple.
Mas de la Fargassa is situated next to a beautiful river with swimming possibilities.
The Dortoir is only for hikers GR10/11- HRP (so without car)
Arrival from 16h. Departure next morning at 8.30h at the latest.
Hikers are only welcome at Mas de la Fargassa in combination with an overnight stay.
(Not only for swimming, picnics, meals, shopping, coffee… ect)
An extra night's stay is possible for an extra daily rate of €10
1 simple dormitory (unheated) with 14 sleeping places + bivouac camping field.
No central inside heated room, but a big roof outside with woodburner and picknicktables.
Hot showers included.
Shared local bio-vegetarian meal with our holiday/camping guests at 20:00.
Breakfast (self-service) in our kitchen – packed lunches – snacks possible.
Available: simple blankets
Bring your own: sleeping bag or sheet, towel.
Money or cheque (no credit cards possible)
Overnight stay in dormitory per person € 20
Bivouac p.p. € 10, –
With second night, extra day rate of €10
Dinner p.p. € 18, –
Breakfast p.p. € 12, –
Picnic p.p. € 14, –
Please reserve by e-mail:
e-mail: lafargassa@gmail.com
(Telephone 04.68.39.01.15)
IGN 2449.OT-RE 10 GR 10 and HRP. GRP connection Ronde du Canigou