Open all year round – also during fall, Christmas and spring holidays!
In July and August we rent our Gîtes per week from Saturday to Saturday.
We offer delicious organic vegetarian meals every evening, whoever wants to join us is very welcome!
It is also possible to inform us when you make your booking that you want to enjoy our meals throughout your stay, the table is set for you every evening at 8 a.m.
Really on holiday, with us no WIFI or mobile coverage !!
(Incidentally, our computer and our landline telephone can be used in the kitchen when necessary and there is a mobile range within a 10-minute walk)
Please bring biodegradable laundry products.
The Pigstys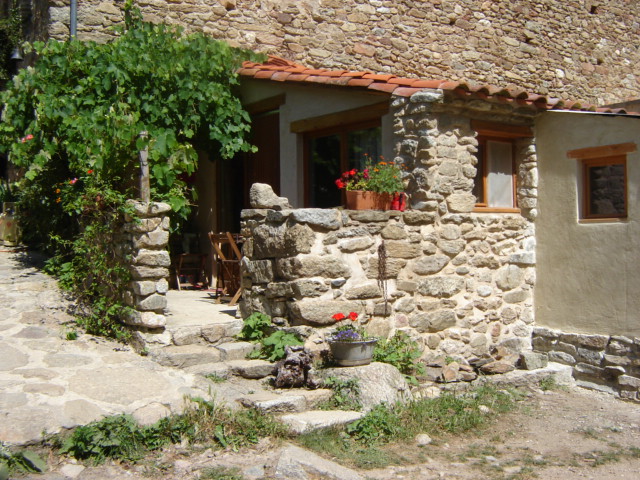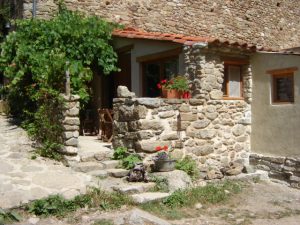 We have two small scale fully equipped one room houses, suitable for 2 adults.
Own shower and toilet, small kitchen, own terrace.
In addition, there is an attractive wooden bunk bed (1.30m long) for the youngest among us.
High season price 2023: €450-€550 pw
Plum cottage

It is wonderfully situated under the trees next to the river. In front of the house is our old plum orchard. It has a simple kitchen with fridge, gas stove, kitchenware and picnic table, lamps, two double beds and one single bed with good mattresses. and pillows. Bring your own sleeping bags and towels. This beautiful wooden treetrunkhouse can accommodate 5 people.High season price 2023: €600-€650 pw
Hester huisje
This beautiful simple woodhouse is situated on a terrace, between fruit plants overlooking the river and our old Mas, on the other side of the river.
It has a simple kitchen with fridge, gas stove , kitchenware and picnic table, lamps, double bed and bunk beds with good mattresses and pillows. Do bring your own sleeping bags and towels. This beautiful "Hester huisje" is suitable for 5 persons.
High season price 2023: €600-€650 pw

Châlet
The châlet has its own beautiful private spot on the other side of the river. Suitable for a family with 3 or 4 children. It has 2 bedrooms, shower and separate toilet, kitchen and dining table. A large sliding door gives access to a large covered porch, with a dining table. It has direct access to the river.
High season price 2023: €650-€700 pw
River Gîte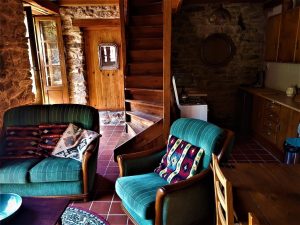 Our River Gîte is a small cosy apartment in our Mas, perfect for a family with 3 children. It has its own entrance, which is reached up one flight of stairs to the first floor. On this floor you will find a small, south-facing balcony, which has room enough for a table and chairs. On this floor you will also find a cosy living room with wood-burning stove, French balcony and an open-plan kitchen. On the east side of the the Gîte you will enjoy views of the river and on the south-side, there are views overlooking the communal area, with fire place where the evening meal is served.
On the upper floor there are 2 bedrooms, a small bathroom with a toilet and a corner bath where you can also shower.
High season price 2023: €750-€800 pw
Ecological Yurt, new from summer 2022!

On a rugged island in our small mountain river, there is a large round stone platform just 5 minutes walk from our house. Built with natural stone from the river. Surrounded by small waterfalls, running water, trees, bushes and rocks.
In May 2022, we will enthusiastically start building our new, very spacious yurt (6m diameter) together. Ecologically made from locally-sourced chestnut wood. Cotton sewn with love by Jennifer in the Ariège, with local sheep's wool for insulation. The Yurt is very simply furnished with natural wood, lots of wool and a wood burning stove for the winter days. Self-sufficient, for 5 people, with small private kitchen, beds and a compost toilet. A very natural, simple stay in nature, close to the cosy cummunal life at Fargassa. A fresh morning dive in the river, the sound of the owls, the rippling water…
Drinking water is available at our house. A cool box is available as are lamps (electricity can be used at our house).
High season price 2023: €800-€850 pw
Bergerie
Along a centuries-old footpath that in the past connected the mountains farms and villages, lies our Bergerie, nestled in the wooded foothills of Roc Savador. To reach it from our Mas requires a 10-minute walk up the mountain and is only suitable for people who are in good condition, since it is only accessible on foot. The Bergerie is perfect for people who wish to combine the conviviality of Mas de la Fargassa with the tranquility of the quiet forest that surrounds it.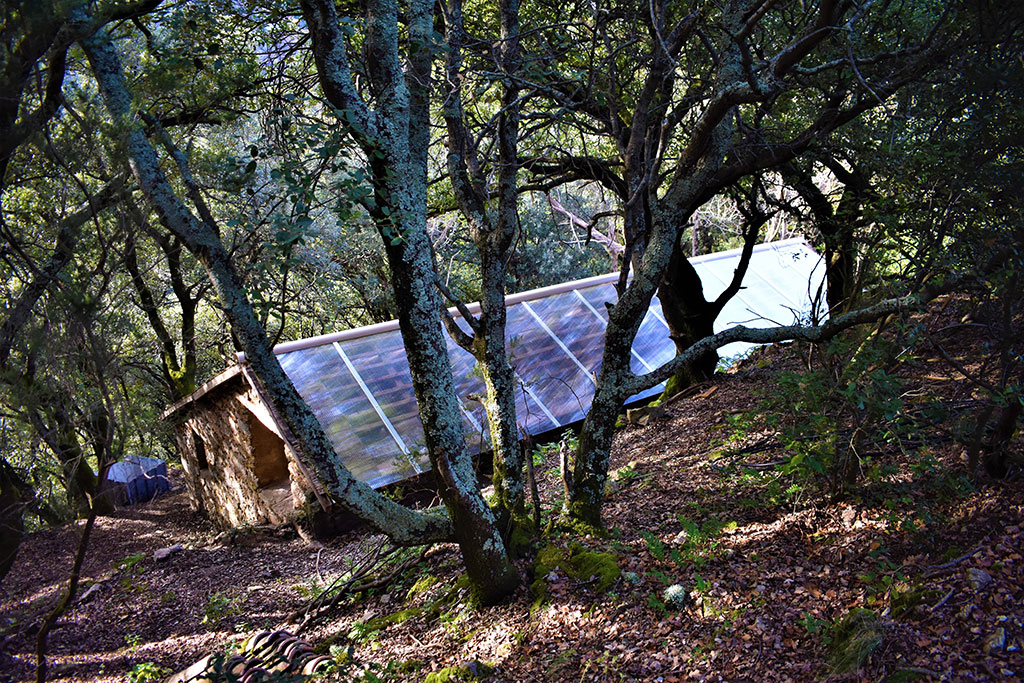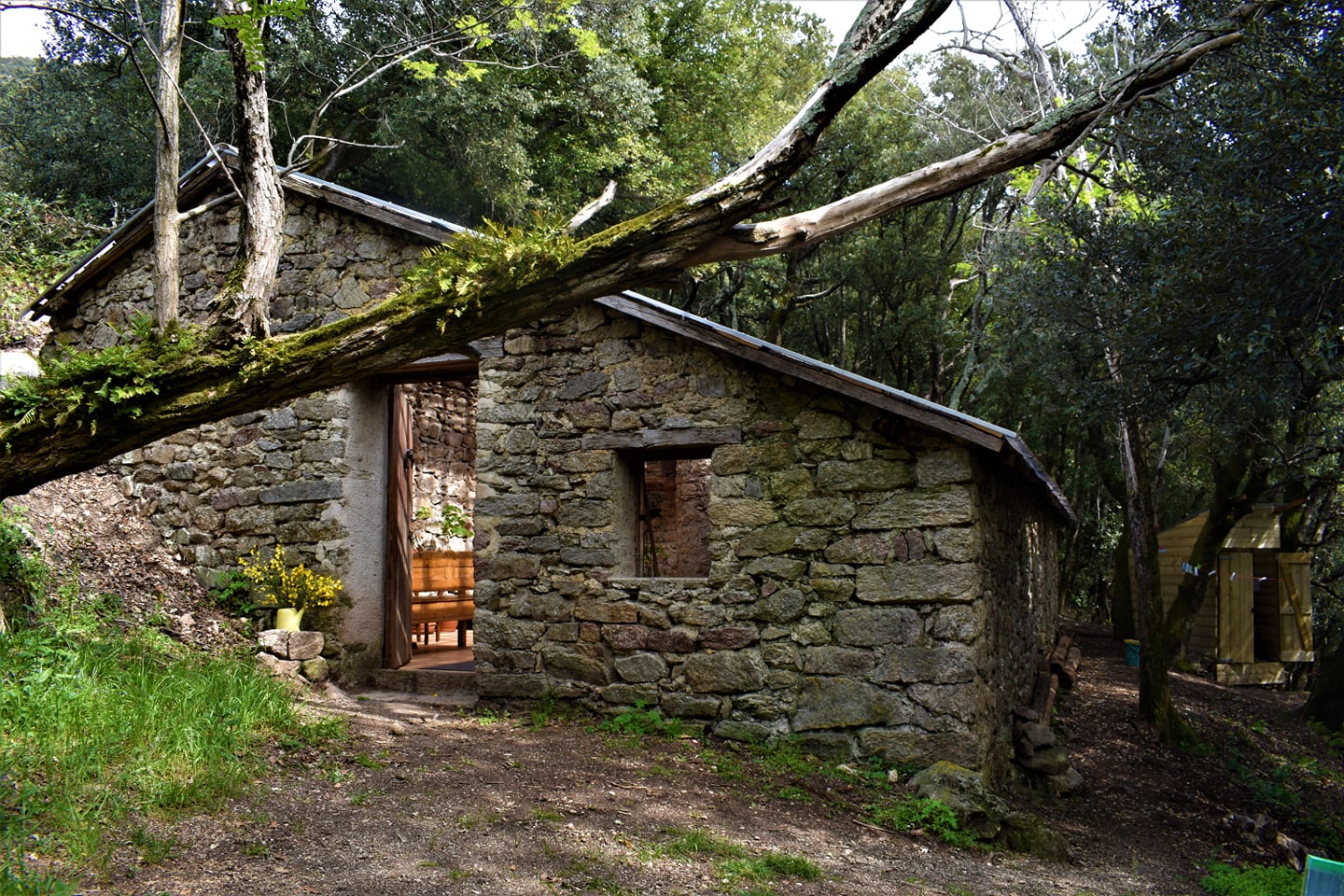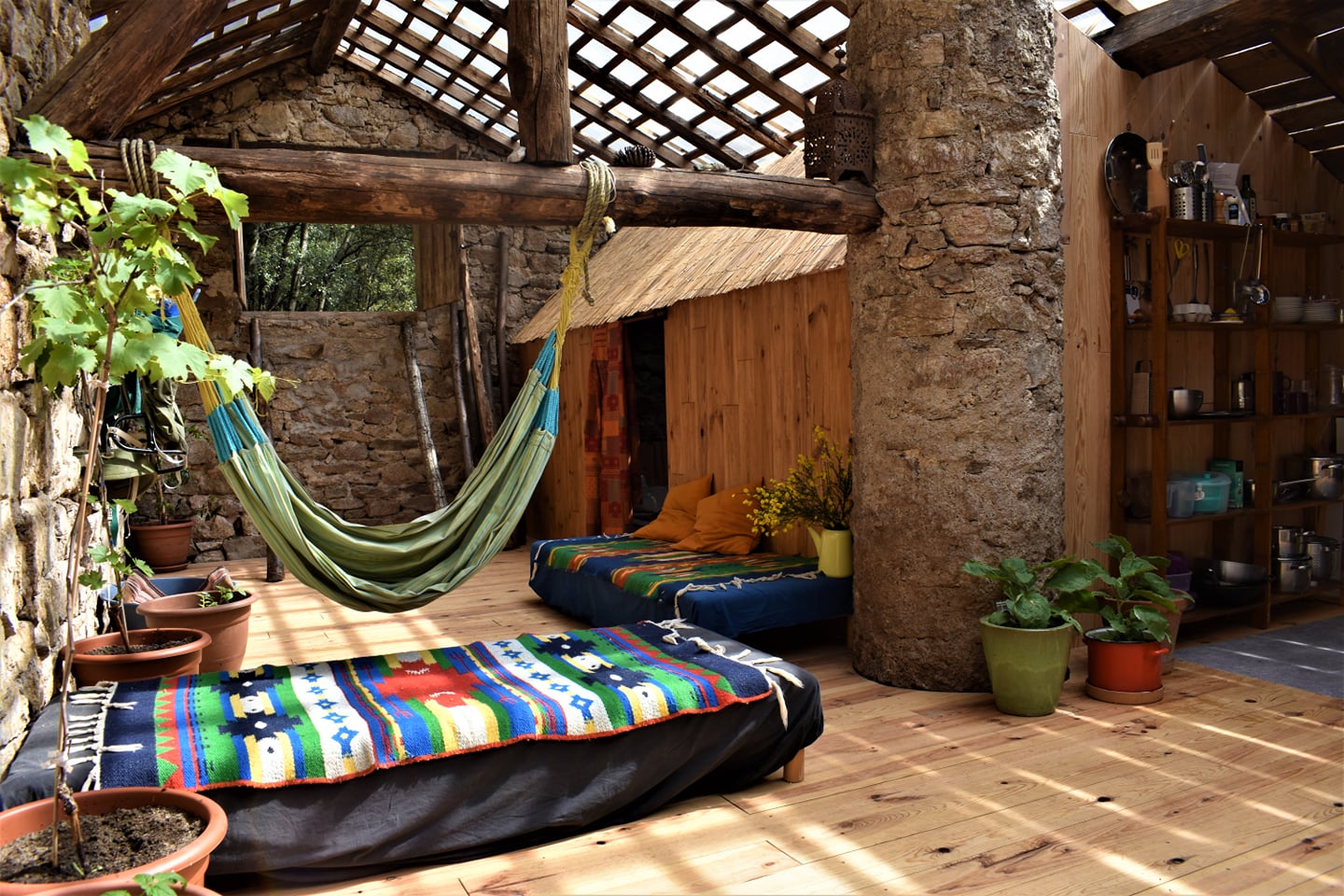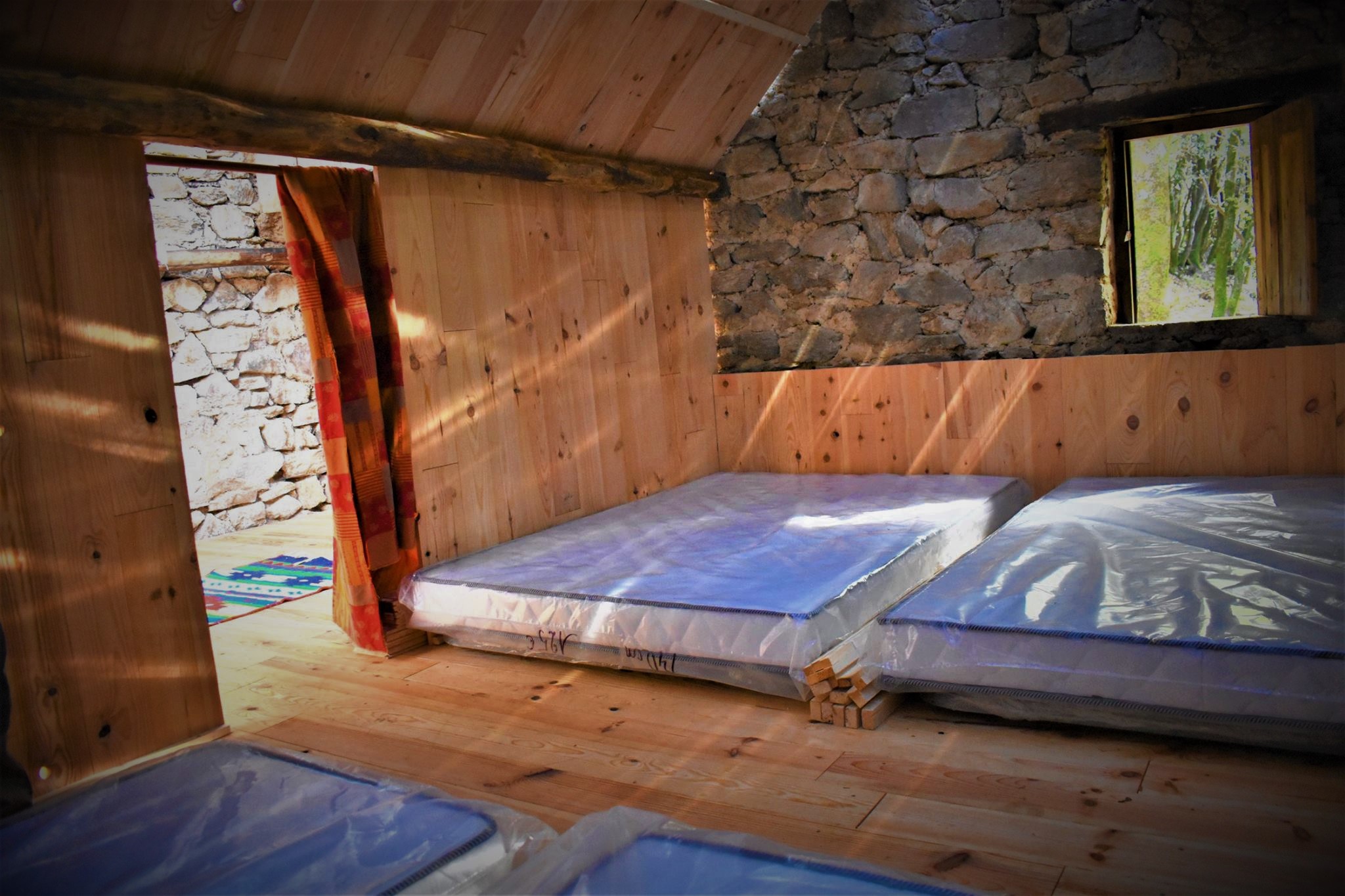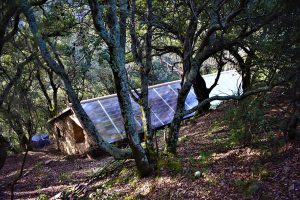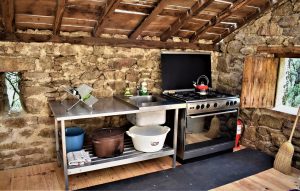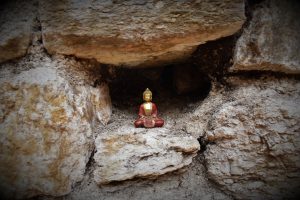 The Bergerie is a spacious, fully furnished, accommodation of 11 x 6 meters with a wonderful new, translucent roof. It has a large stove with oven and a simple cold water supply. There is no electricity so solar cells and rechargeable batteries are used. There are lamps and there is a large cool box. The Bergerie has an external compost toilet. A warm shower can be used at our Mas. It sleeps a maximum of 8 people.
The sunny terrace has a picnic table and chairs directly above the house where you can enjoy beautiful views of the Pyrenees.
….You can hear the bell from Mas de la Fargassa, telling you it´s time for dinner….
High season price 2023: €800-€850 pw
Big gîte
This is a beautiful spacious accommodation inside the Mas. It has 4 bedrooms, a bathroom with shower and separate bath, an open-plan kitchen and a wood-burning stove. It also has a large and a smaller balcony and its own entrance. Suitable for 8 to 10 people.
High season price 2023: €1100-€1150 pw